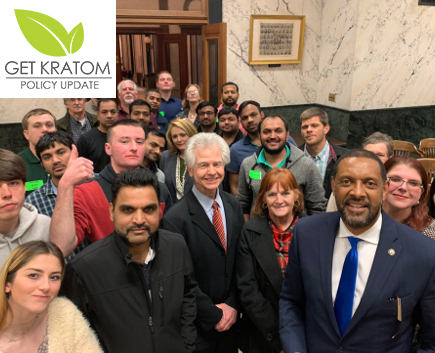 Georgia State Rep Eats Kratom During Mississippi Testimony
On February 27th, Georgia Rep. Vernon Jones consumed kratom during his testimony at the joint Hearing of the Mississippi Senate and House Drug Policy Committees. The subject of the hearing was SB2084, a bill that would place kratom on the list of Schedule 1 substances.
"Twenty-five seconds in, Rep. Jones makes the most incredible speech ever made," a woman who attended the hearing told us. "He eats kratom in front of the two committees, the task force, and all crooked doctors with them! He did what we all have wanted to do."
Asked the next day to verify this story, Jones said, "I did! And I just did it again."
Rep. Jones has long been a kratom consumer and advocate, giving testimony at state kratom hearings across the country.
In the past year, Kratom consumers in Mississippi have been subject to an anti-kratom propaganda campaign by the Lowndes County Crime and Addiction Task Force, a private group led by the former Mississippi Bureau of Narcotics agent and newly elected sheriff of Lowndes County, Eddie Hawkins.
On Tuesday, March 3rd, Rep. Jones' fervent advocacy paid off.
"The Mississippi Legislature has allowed all kratom bills to die in Committee (including the two House bans and the Senate replacement KCPA) pending an effort for the contesting parties to come to an agreement," wrote Mac Haddow, Senior Fellow of Public Policy at the American Kratom Association. "We will do our best to work out a compromise. The bans are dead!"
Comments
Leave your comment